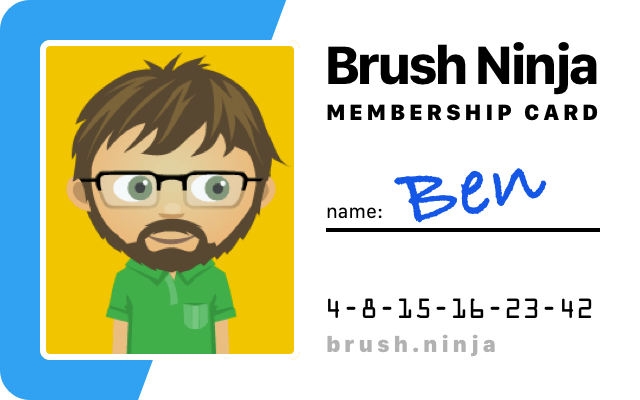 Black Friday
Save 50% for 6 months!
Use coupon code BF2022 at checkout.
Join Brush Ninja
Get extra power features by becoming a Brush Ninja Member.
Images
Upload and animate your own images from your computer.
Animations
Download example animations, with more added regularly.
Stickers
Get (more than) double the amount of stickers to use in your animations.
Colour Palettes
More custom colour palettes in the colour picker.

Brush Ninja contributes 1% of all profit to projects that remove carbon from the atmosphere.
Members also get
More collage layouts in the Photo Collage creator.
Priority email communication with Ben.
Access to the Brush Ninja product roadmap (feature plans).
An ever growing image archive containing all of the free images offered in the images tool.
More…
Information for Teachers

However user accounts can be useful for teachers. Paid user accounts give teachers access to additional features that can be saved in .brushninja files. These files can then be shared with students.

For example, one of the premium features that paid users have access to is being able to add your own images to an animation file. Teachers could use this feature to add relevant images for the subject being studied to an empty file. This file can then be saved for the students to load on their individual devices. Once the students load the animation they will be able to freely use the images that are saved in the file.

As such, it is suggested that the only people who need membership accounts (in an educational setting), are the teachers. Please note that Brush Ninja membership accounts should not be shared with students, or others. Account users will have access to membership information, be able to change the account password, and cancel the account. As such you will only need one account per teacher.

For more information about how Brush Ninja can benefit your students, see our teaching and education page.
Information for Free Users

If you do not need the features listed above then you can use the Brush Ninja tools for free. There's no need for an account, just load the app and off you go!